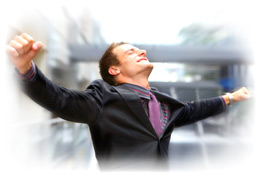 Earl Nightingale, pioneer of the self development audio program, once said, "Success is the progressive realization of a worthy ideal" – a "worthy ideal" being whatever that means to you; something that is worthy of you, a life worth living!
The majority of people think that success means having lots of money and fame, but it really is so much more than that. Money, for instance, is a result of success – not the other way around. Success is living the kind of life you want to live, doing all the things you love to do, and whenever you want to do them – all, of course, without taking anything away from anyone else.
There have been many famous studies on how to be successful – including the phenomenal research done by Napoleon Hill – which have shown, without exception, that successful people possess certain qualities and attitudes. These qualities and the corresponding results have been measured, and it is now known that by understanding and implementing the exact same mindset, success can be achieved by absolutely anyone, regardless of background or education.
It is, however, widely reported that only 5% of the world's population are actually "successful" in all areas of their lives, and an incredible 1% of the world's population earn approximately 96% of all the money being earned! This staggeringly out of balance statistic is largely due to the attitudes and limiting beliefs currently held in the minds of the majority of people on earth…
Take your place in the top 5% NOW! Use the super-effective "Success!" to eliminate those old limiting beliefs, to attract success and to saturate your mind with powerful, positive and uplifting suggestions. Regular exposure to this audio will also help you to change your attitude, which in turn, will move you into the kind of action that can only bring success.
Don't wait any longer to live the life of your dreams, use this powerful success subliminal audio now…
This product includes a "Main Session", a convenient "10 Minute Top-Up" (for use between main listening sessions) and a "Silent Reinforcement" track for use virtually anywhere, and at any time. It also comes with a mini-booklet which features extensive FAQ's, bonus professional hints and tips, and two powerful "Intention Statements" for use before each listening session – one to help you become more successful in general, the other to help achieve a specific goal by any given date.